Today I have another in my Nutcracker themed food series to share with you. This post is part of a collaboration with Meghan from Playground Park Bench, who is sharing some adorable Nutcracker themed crafts and activities (you can see a round-up of all of our posts so far over on Meghan's blog here: Plan the Perfect Nutcracker Party. Today our theme is snowflakes. Meghan will be sharing some lovely light up snowflake wands, and I have this yummy snowflake pretzels recipe to share.
These snowflake pretzels would make great party nibbles for Christmas parties or lovely party favours if you put them them in little boxes or cellophane bags. They make a lovely edible gift idea for family and friends this Christmas too, just pop them in a cellophane bag and add a pretty ribbon and label.
I found these fun star shaped pretzels in my local supermarket (Sainsburys) which were perfect for this project, but if you can't find this specific shape there are lots of other festive pretzels shapes available in the shops at this time of year and ordinary pretzels would work too. I found the snowflake sprinkles in our local pound shop, but most supermarkets stock something similar or you can find them on Amazon UK.  You could also use simple hundreds and thousands if you prefer.
Snowflake Pretzels
Ingredients: 
Star shaped pretzels
100g white chocolate
Method:
Lay a sheet of baking paper or tinfoil over a flat baking tray, platter or plate.
Break up the chocolate and place in a small microwavable bowl (I used white chocolate buttons to speed up the process a little!).
Microwave at 20 second intervals, stirring between each interval until the chocolate has melted. White chocolate melts quicker than other chocolate, so take care not to burn it! You could also melt it in a bowl over boiling water if prefered, but I find microwaving to be a bit quicker.
Give the chocolate a good stir, then dip a pretzel half way into the chocolate to coat. Place the pretzel on the baking tray, then pop a few snowflake sprinkles gently on top of the chocolate to decorate.
Repeat until you run out of chocolate or have as many pretzels as you need.
Place the tray in the fridge for around 15 minutes to set hard. Once set, carefully peel the pretzels from the baking paper, then store in an airtight container or package up in cellophane bags to give as gifts.
If you enjoyed this post, do come back to follow the rest of our Nutcracker series – we'll be posting a new idea every few days until December 16th. You can find all of our posts to date over on Meghans Plan the Perfect Nutcracker Party page, and I'll be putting together a nice round-up of our nutcracker ideas when the series is complete too. You might also like some the ideas in my fun Christmas food section here on the Eats Amazing blog!
Grace
Disclosure: This post contains some Amazon affiliate links; I may receive commission on items purchased through the links.
This post was linked up at the following linky: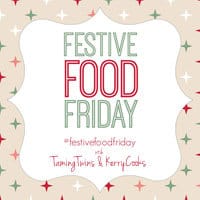 at
TamingTwins
and
KerryCooks