Ahoy there me hearties, today be International Talk Like a Pirate day, one o' me favourite days of t' year!  Of course I had t' be making a swashbuckling piratey lunch for t' cabin boy in honour of this here fine day and t' make it even better, I got together wi' me scurvy crew o' bento bloggers t' set sail on a marvellous voyage we call a blog hop. Make sure ye be clicking on t' Jolly Roger flag at t' end of this here post, if yer want t' clap yer eyes on some more amazing pirate grub!
In this piratey lunch, our Cabin Boy had a toasted pitta bread, representing t' ship's cat, complete wi' cucumber eye patch. He had piratey houmous to spread on it, part o' which was frozen t' make a fearsome skull, and some frozen yoghurt cross bones.  He also had a pile o' scrumptious grapes and strawberries, skewered wi' a few cutlasses.  No pirate lunch be complete wi'out treasure, so he had a couple o' gold chocolate doubloons hidden in a treasure chest stolen from some passin' Playmobil pirates just this morn'.
By request he also had a barrel o' rum, also known as a carton o' Innocent smoothie, but we couldn't be showing that here lest it let down his piratey image, yarr!
T' Cabin Boy kept us amused last night wi' his piratey jokes, here be a little clip o' his favourite;
Just in case t' video doesn't work fer ye, I wouldn't want ye to miss this gem o' a joke!
Q. Why be pirates called pirates?
A. They just arrrrr!
I hope ye enjoyed that, now click on t' button below t' see what me First Mate Sarah from Blame it On the Bento has in store for ye!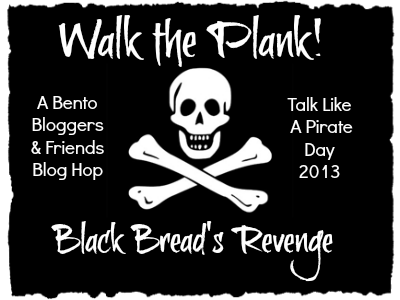 After ye've sailed 'round this hop, hang on to yer sea legs!
Click 'ere to board t'next ship fer another hop!