Today I'm sharing a cute snowflake tortilla crisps recipe. I often make my own tortilla crisps, they're so easy to make and with the help of cookie cutters you can create whatever shape you need for themed lunches, party food and fun snacks for kids. This time of year definitely calls for snowflakes though, as we're now in December and Christmas is fast approaching!
Yesterday I was scrolling through Facebook and spotted that the lovely Amy from Feeding Finn is planning on sharing healthy Christmas themed snacks this month for every day in the Advent calendar, starting with these delicious looking 4 ingredient carrot stars. I think it sounds a really fun idea, so with her permission I'm joining in the challenge and will attempt to do the same, so this post is for day one of the Eats Amazing version of a festive snacks advent calendar!
Snowflake Tortilla Crisps
Ingredients:
2 tortilla wraps
olive oil
sea salt flakes (optional)
Method: 
Start by preheating your oven to 180°C (Gas mark 4/350°F). Brush or spray a couple of baking trays with olive oil.
Take snowflake cookie cutters and cut as many snowflake shapes as you can from the two tortilla wraps.  I used some nesting snowflake cutters that I found in Sainsbury's, but I've also found this set and this set on Amazon UK which would work just as well.
I also used mini bento cutters in various shapes to cut patterns into the snowflakes – you could do this freehand with the tip of a small sharp knife but the mini cutters made it a lot quicker!
Carefully place the tortilla snowflakes onto the oiled baking trays. Brush or spray them with oil and sprinkle over a little bit of salt (optional). You could also them with sprinkle sesame seeds for extra flavour and texture if you like them.
Bake in the oven for 5-10 minutes until the snowflakes are starting to brown round the edges and are crispy. Do keep a sharp eye on them a they cook as they can burn very easily.
Once baked and crispy, remove from the oven and leave to cool for 10 minutes on a wire rack. Serve with houmous or another dip of your choice.
These are really fun for packing in lunch boxes, they're always a hit with my boys!
If you'd like more Christmas themed food ideas, check out the fun Christmas food section here on the Eats Amazing blog, and keep an eye out for the festive snack ideas I'll be sharing daily in the coming weeks too.  You could also follow my Healthy Christmas Food board over on Pinterest for yummy Christmas food ideas from all over the web and follow the Eats Amazing Facebook page too, where I share lots of fun food ideas every day!
Grace
Disclosure: This post contains some Amazon affiliate links; I may receive commission on items purchased through the links.
This post was linked up at the following linky: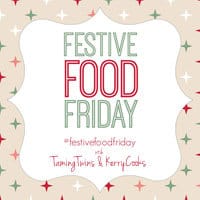 at
TamingTwins
and
KerryCooks